Billy Jones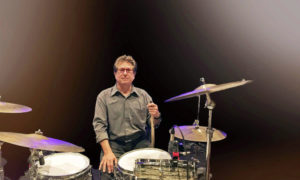 Billy Jones is a jazz drummer based out of Philadelphia, PA and Monterey, CA who has shaped some of the most important jazz records and performances of our time.
Billy has been fortunate enough to play with the greats, including Sammy Davis, Jr., Don Rickles, Sid Caesar, Jay Leno, George Carlin, Bill Cosby, Michel LeGrand, Steve Martin, Petula Clark, Eddie Murphy, David Foster, Angela Bofill, Arsenio Hall, Carol Lawrence, Mickey Rooney, Crystal Gayle, The Temptations, Patti LaBelle, Robert Goulet, Peter Allen, Neil Sadaka, Gregory Hines, Maurice Hines, Sid Caesar, The Fifth Dimension, Mitzi Gaynor, Julliette Prowse, George Kirby, Jerry Van Dyke, and Joan Rivers at locations such as Harrah's, The Golden Nugget, Playboy, Sands, Resort's, and Trump Castle Casino Orchestras. 
Billy has played in Broadway musicals such as Grease starring Al Jarreau and Mayor along a long list of shows including Chicago, Sugar Babies, Annie (starring Andrea McArdle), Dream Street (starring Mary Wilson), South Pacific, Do Black Patent Leather Shoes Really Reflect Up?, Bye Bye Birdie, Seussical: The Musical, The Rat Pack, Peter Allan Tribute, The King and I, My Fair Lady.
Further, Billy Jones has had the opportunity to tour as a personal drummer to pop artists such as Joel Gray, Mary Travers, Rod Mckuen, The Maguire Sisters, The Three Degrees as well as with jazz artists such as Bernard Pieffer, Grover Washington, Jr., Little Jimmy Scott, John Blake, Dennis Di Blasio, Stanley Clarke, Mike Richmond, George Young, Eddie Gomez, Jeremy Steig, Cecil Bridgewater, Steve Marcus, Brian Trainor, Jimmy Bruno, Howard Aldan, Jack Wilkins,Tom Scott, Gary Bartz, and The Glenn Miller Orchestra.
On top of that, Billy has played in a Carnegie Hall performance with the Jubilate Deo Chorale and Orchestra in a Christmas concert sponsored by the Vatican Delegation to the United Nations, performed in numerous jazz festivals in the Philadelphia/New York/New Jersey area including The Cape May Jazz Festival, and served as judge to many college and high school jazz. He was even featured in Modern Drummer magazine in a 1985 article entitled, "The Drummers of Atlantic City."
Billy formed Sight and Sound Creative Productions with pianist/composer Pat Spino, specializing in the creation and production of high-quality custom music for corporate film, video, and slide show presentations, as well as commercial radio and TV spots. With this project, he's worked with clients including AT&T, Bell Atlantic, IBM, DuPont, The Philadelphia Phillies, Hercules, Inc.
With all of these accomplishments, accolades, and experiences, Billy Jones is still as passionate as ever about jazz music and strives each day to push the boundaries of the genre with exciting and innovative new music.
---
Selected Discography
2006    Why Try and Change Me Now, Little Jimmy Scott & Jon Lucien with the Brian Trainor Trio, Summit Records
2006    Franco, Philly's Singing Chef (producer), High Note Café Records
2005    Between Midnight and Dawn, Tyrone Brown String Quintet, Dream Box Media Records 2004      Chain of Events, George Genna Trio, Summit Records
Currently in production with vocalist, Lois Smith
2002    Breakout, George Genna, (independent release)
Let It Snow, Tamer Tewfik, Swamp Queen Music
1999    Urban Objects, Kayle Brecher, Penchant Four Records
Impressions, Robin Haffley, Techno Wind Productions
1997    It's Monk's Tune, The Brian Trainor Trio, JazzFest Records
Monk and Me, The Brian Trainor Trio, Summit Records
1996    Portraits, The Brian Trainor Trio, Candid Records
1993    Hotel Eden, Gene Terramani, 101 South Records
1992    Wind, Water, Stone, The Brian Trainor Trio, TriArt Records
---
Film & Soundtrack Production
2005    Van Vorst  Park  independent film staring Frank Vincent  from the Sopronas' ( drummer  on sound track)
2000    Featured performer with The Brian Trainor Quartet, live broadcast, WRTI radio
Velveteen, independent film soundtrack for filmmaker Michael Ansberg
1999    Hep Squad (television pilot), with Richie Cole and The Alto Madness Orchestra
1988    Salerno Pontiac jingle (producer and performer)
1987    Philadelphia Phillies baseball jingle (performer)
Ford New Holland (corporate film soundtrack, performer)
1986    A Day in the Life of Pennsylvania, Bell Atlantic film soundtrack (producer and performer)
Signature Service, Bell of Pennsylvania advertising campaign (producer and performer) AT&T industrial film soundtrack (producer and performer)